DIN-Rail Ethernet Switches

DIN-Rail Ethernet Switches
Ethernet Direct offers a complete range of industrial DIN-rail switches from unmanaged Ethernet switch and managed Ethernet switch that support Gigabit and fast Ethernet options with copper/fiber connectors.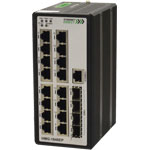 Ethernet Direct offers SNMP Managed DIN-rail switches ranging from 6/8/10/11/18/20 port density options. The new Husky switches are designed with advanced Layer 2 management features and certified by strict agency approvals suitable for specialized industries & solutions.
HME-423E / HME-800 / HME-621E / HMG-828 / HMG-826 / HMG-1628
All above switches support 12~48VDC power inputs except for HMG-828 (24/48VDC)
Supports STP, RSTP, Dual Homing & Couple ring redundancy
Proprietary protocol X-Ring with < 10 ms recovery time for HME-423E, HMG-828 & HMG-1628
Proprietary protocol X-Ring with < 300 ms recovery time for HME-800 & HME-621E
DHCP Server/Client, SNMP / RMON network management, VLAN configuration, IGMP snooping, QoS
Flexibility security: Port based and MAC based IEEE802.1X, RADIUS
Software upgrade via TFTP
CLI, Web based management, SNMP, Telnet server for management
HMG-428EPT / HMG-838EPT / HMG-1648EP series
High Performance Network Switching Technology
Complies with IEEE standards
Provides multiple TX ports with RJ-45 connector with supporting of Green Ethernet IEEE802.3az EEE (Energy Efficient Ethernet)
Provides multiple Gigabit SFP slots with supporting of DDMI
Supports various network redundant solutions, including Direct-Ring, Direct-Chain, Join-Ring, STP, RSTP, MSTP and ITU-T G.8032
Proprietary ultra high speed redundant technology with < 10ms recovery time @ 250 devices
Supports IEEE1588 PTP V2 for precise time synchronization, to operate in Ordinary-Boundary, Peer to Peer Transparent Clock, End to End Transparent Clock, Master, Slave mode by each port
Supports various network security solutions, Port and MAC based IEEE802.1X, RADIUS, ACL, TACACS+, HTTP/HTTPS, SSL/SSH v2
Supports DHCP Server/Client/Relay/Snooping/Snooping option 82/Relay option 82
Network traffic priority, QoS, Traffic classification QoS, CoS, bandwidth control for Ingress/Egress, broadcast storm control, DiffServ
Supports IEEE802.1Q VLAN, MAC-based VLAN, IP Subnet-based VLAN, Protocol-based VLAN, VLAN translation, GVRP/MVRP
Supports IGMP/MLD snooping V1/V2/V3, IGMP Filtering/Throttling, IGMP query, IGMP proxy reporting, MLD snooping
Supports dynamic IEEE 802.3ad LACP Link Aggregation, Static Link Aggregation
Supports RMON, MIB II, Port mirroring, Syslog, IEEE802.1ab LLDP for network monitoring
Supports IPv6 Telnet server, ICMPv6
Supports CLI, Web based management, SNMP v1/v2c/v3, Telnet server for management
Supports firmware upgrade via TFTP & HTTP with redundant firmware option
Reliable Power Design
Supports 12 to 48VDC redundant power input
Power reverse polarity protection and overload current protection
Robust Industrial Design
UL60950-1, CE, FCC certified
EN 61000-6-2 and EN 61000-6-4 certified to use in heavy industrial environment
NEMA TS-2 certified for Traffic Control
EN 50121-4 certified for Railway Applications (Track Side)
Robust industrial design case complies with IP30 housing standard
Supports operating temperature -10 to 70°C & extended temperature -40 to 80°C
DIN-Rail or optional wall mounting installation
HWE-800
For cost-effective applications, Ethernet Direct offers industrial Web Managed DIN-rail switches.
Supports 12~48VDC power
Web based configuration – using browser
Supports STP & RSTP Redundancy
Supports X-Ring with < 300 ms recovery time
Supports IGMP Snooping, VLAN configuration, DHCP Client, QoS and IP security
Software upgrade via TFTP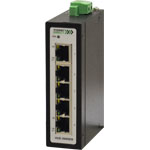 Prodcut Features
Ethernet Direct offers Plug and play industrial unmanaged switches that provide an economical solution for your industrial Ethernet connections and can be installed easily on a DIN-rail or in a distribution box.
High Performance Network Switching Technology
Complies with IEEE standards
Provides multiple TX ports with RJ-45 connector
Provides multiple Gigabit SFP slots or 100FX SC/ST connectors
Provides DIP switch for broadcast storm protection and alarm setting
Reliable Power Design
Supports 12 to 48VDC redundant power input
Power reverse polarity protection and overload current protection
Robust Industrial Design
CE, FCC certified
EN 61000-6-2 and EN 61000-6-4 certified to use in heavy industrial environment
EN 50121-4 certified for Railway Applications (Track Side)
Robust industrial design case complies with IP30 housing standard
Supports operating temperature -10 to 70°C & extended temperature -40 to 80°C
DIN-Rail or optional wall mounting installation