August-2020
Introducing The New BMS-136 High Speed Serial To Ethernet Device Server
California, U.S.A., August 2020 – Ethernet Direct Corporation, a professional and primary provider of industrial networking and communication solutions introduces the new version of BMS-136, a high speed serial to Ethernet device server for industrial automation applications.
A serial device server is used to enable serial devices to communicate over an IP-based network. It transforms serial transmissions into Ethernet signals that allow them to be deployed remotely by network type applications and machines. The new BMS-136 is a 1-port high speed serial device server. It is specifically designed to translate data between the serial and Ethernet formats, allowing users to access, manage and configure remote facilities or equipments over the internet from any location. BMS-136 provides quick, reliable and seamless integration of existing RS-232/422/485 devices to an Ethernet network.
One great advantage of BMS-136 is its unique hardware and software design of BMS-136 enables user to connect RS-232/422/485 serial devices to Ethernet network at a minimal transition cost. It is equipped with versatile operation modes which provide a transparent data channel between serial device and TCP/IP network. The BMS-136 can function as a TCP server, a TCP client or an UDP node and can re-establish the TCP connection every 5 seconds in case network malfunction occurs – in short, device always stay connected. The main difference lies on its DB9 male connector providing RS-232/422/485 and an additional terminal block connector providing RS-422/485 for easy installation. This provides more convenience to users.
Features
Supports TCP/Server, TCP/Client, UDP and paired connection mode with heart-beat checking mechanism
Supports Virtual COM driver for backward compatibility
Supports Telnet/Serial consoles for device configuration
Supports Windows utility for device configuration and management
Supports up to 8 TCP connection in TCP server mode
Management access password protected
Supports loop back mode
Firmware upgradeable
New 5-Pin Terminal Block Pin Assignment (RS-422/485)
| Pin | RS-422 | RS-485 |
| --- | --- | --- |
| 1 | GND | GND |
| 2 | TX(-) | D(-) |
| 3 | TX(+) | D(+) |
| 4 | RX(+) | - |
| 5 | RX(-) | - |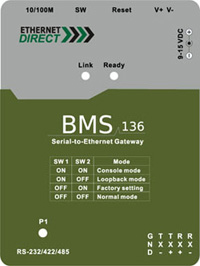 The new BMS-136 is already shipping.
To know more information about the new BMS-136 device server, please e-mail sales@ethernetdirect-tw.com